Fraunhofer Radio Technology becomes part of the worldwide Telecom Infra Project (TIP)
The Telecom Infra Project (TIP) is an industry association for the development of Open Solutions, in which all well-known players of the worldwide telecommunications industry are represented. The aim is to give everyone in the world access to the Internet. Fraunhofer FIT's "Wireless Backhaul" (WiBACK) radio relay technology will be a key component of TIP's OpenCellular project for bringing the Internet to remote, sparsely populated regions.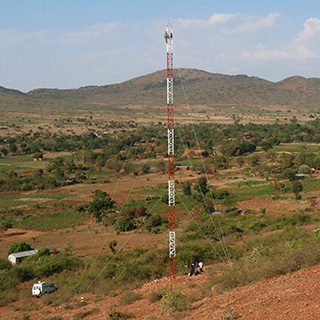 Global Internet penetration has increased significantly in recent decades and finally surpassed the 50% mark of the world's population at the end of 2017. At the same time, however, this means that the other half of the world's population – especially in rural areas – is not yet online.
In rural areas, the high cost of providing connectivity is a major obstacle, as it is offset by an extremely low-income potential for operators. There are many reasons for this, ranging from low population density, infrastructure and skills shortages, insufficiently regulated markets and inflexible business models, to financing problems.
To counter this, the Telecom Infra Project (TIP) was launched in 2016. TIP is an industrial alliance of technology and telecommunications companies, including Deutsche Telekom AG, Intel, Facebook, Telefonica, Vodafone and Nokia Networks. In total, more than 500 member organizations are organized in TIP. TIP's goal is to provide a global telecommunications network infrastructure that enables global Internet access for all. The focus is on innovative ideas for the implementation of new wireless and fiber-optic technologies and other network components that expand traditional approaches to building and installing network infrastructures.
Fraunhofer FIT was involved in TIP's OpenCellular since its inception in 2016. WiBACK is a cost-effective solution for bringing broadband Internet to sparsely populated rural areas that are uneconomical for traditional commercial operators. Based on proven protocols in combination with self-organizing processes, WiBACK enables the construction and operation of a fail-safe wireless network without expert knowledge. WiBACK was developed by Fraunhofer FOKUS and Fraunhofer FIT over more than eight years of research and is already in use in numerous installations in Europe, Africa and South America. WiBACK is a multi-hop point-to-point radio relay solution. With solar-powered transmission towers at intervals of 10-25 kilometers, it can bridge distances of several hundred kilometers.
"We are delighted to become an integral part of the Telecom Infra Project's OpenCellular Project Group. For this purpose, we make parts of our technology available as open-source. WiBACK becomes OC/WiBACK, which will connect the OpenCellular base stations as a backhaul or transport network. In the future, we want to integrate WiBACK technology with OpenCellular Base Stations in a single device in order to bring the Internet to previously untapped regions," says Dr. Mathias Kretschmer, head of the Network Research department at the Fraunhofer Institute for Applied Information Technology FIT.
The Fraunhofer FIT contributions to TIP and OpenCellular includes:
Open-source WiBACK Node software

Field trials and expertise shared with OC and TIP community

Integration and development efforts to integrate both access and backhaul into a single unit

Backhauling-related aspects towards an overall OC whitepaper on TV White Spaces
"We are happy to see FIT with its expertise in rural connectivity playing an active role in our OC community. With OC/WiBACK integration, we believe, one can provide sustainable solutions for (deep) rural communities. This work will help us fulfil OpenCelluar's mission of enabling better rural connectivity, which has the potential to dramatically improve the lives and economic opportunities people living in rural regions.", says Dr. Kashif Ali, Chair of TIP's OpenCellular Project Group
The OC/WiBACK software will be available as open-source via the OpenCellular github, by end of this year. It allows everyone to develop their own OC/WiBACK-compatible outdoor nodes.
Further information on the WiBACK technology can be found at www.wiback.org/en/wiback-technology.html.